Paragoomba is a Goomba with wings. He appears in both games.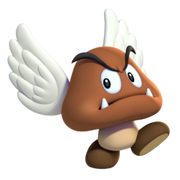 In addition, Paragoombas are seen as spectators in the stands.
==Mario Superstar Baseball Bio==Edit
"A Goomba with wings. Just like Koopa Paratroopa, Paragoombas lose their wings and turn into Goombas if they get stepped on. The Goomba family is made up of expert bunters, although no one really makes a big deal out of it, bunting, after all, isn't all that glamorous."
Chemistry
Edit
Good Chemistry
Mii (Brown)
Bad Chemistry
Information
Edit
Pitch: 6/10
Bat: 3/10
Field: 6/10
Speed: 5/10
Team Captain: Wario
Ad blocker interference detected!
Wikia is a free-to-use site that makes money from advertising. We have a modified experience for viewers using ad blockers

Wikia is not accessible if you've made further modifications. Remove the custom ad blocker rule(s) and the page will load as expected.