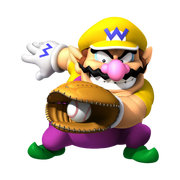 Wario is Mario's fat, muscular and greedy rival who appears in both Mario Baseball games. Wario is a team captain and is the main team member for Wario Greats (know as Wario Muscles in Mario Super Sluggers).
Chemistry
Edit
Good:
Bad:
Teammates
Edit
Waluigi (Assistant captain)
Goomba
Paragoomba
Koopa Troopa
Koopa Paratroopa
Boo
King Boo
Petey Pirahna (Mario Superstar Baseball only)
Ad blocker interference detected!
Wikia is a free-to-use site that makes money from advertising. We have a modified experience for viewers using ad blockers

Wikia is not accessible if you've made further modifications. Remove the custom ad blocker rule(s) and the page will load as expected.